Bitcoin's price plunged on Wednesday as it fell below the $46,000-mark. The top currency dipped 3 percent after an announcement by US Federal Reserve Governor Lael Brainard.
Most of the cryptocurrencies, including Ethereum, were in red as the overall crypto market volume was down.
BTC Price Action
Today's Bitcoin price saw another fast drop below $46,000. BTC is most likely about to push higher again in a bid to break out of the present consolidation.
BTC/USD has moved in a range of $45,235.82 – $47,106.14, exhibiting significant volatility. Trading volume has climbed by 6.08 percent to $31.2 billion, resulting in a dominance of 40.84 percent over the overall market cap of $870.33 billion.
The market has been consolidating around $46,000, with lower highs being set along the way. A higher local low was also made late yesterday, indicating the formation of a symmetrical triangular pattern.
As a result, a clear break above or below the consolidation triangle is required to forecast where BTC/USD will go next. Given the price behavior of the last few hours, another jump higher is likely to occur soon. The Bitcoin price should see more upside later this week if a greater high can be attained.
Also Read Bitcoin Bull Run In Progress – BTC Price May Hit This Level In Next 12-Months!
Opportunity for long-term accumulation?
Bitcoin's current price may give an appealing chance for patient investors to gain exposure to the world's largest cryptocurrency.
That's the message from an indicator dubbed Reserve Risk, which calculates the risk-reward ratio of investing in Bitcoin based on long-term holders' convictions.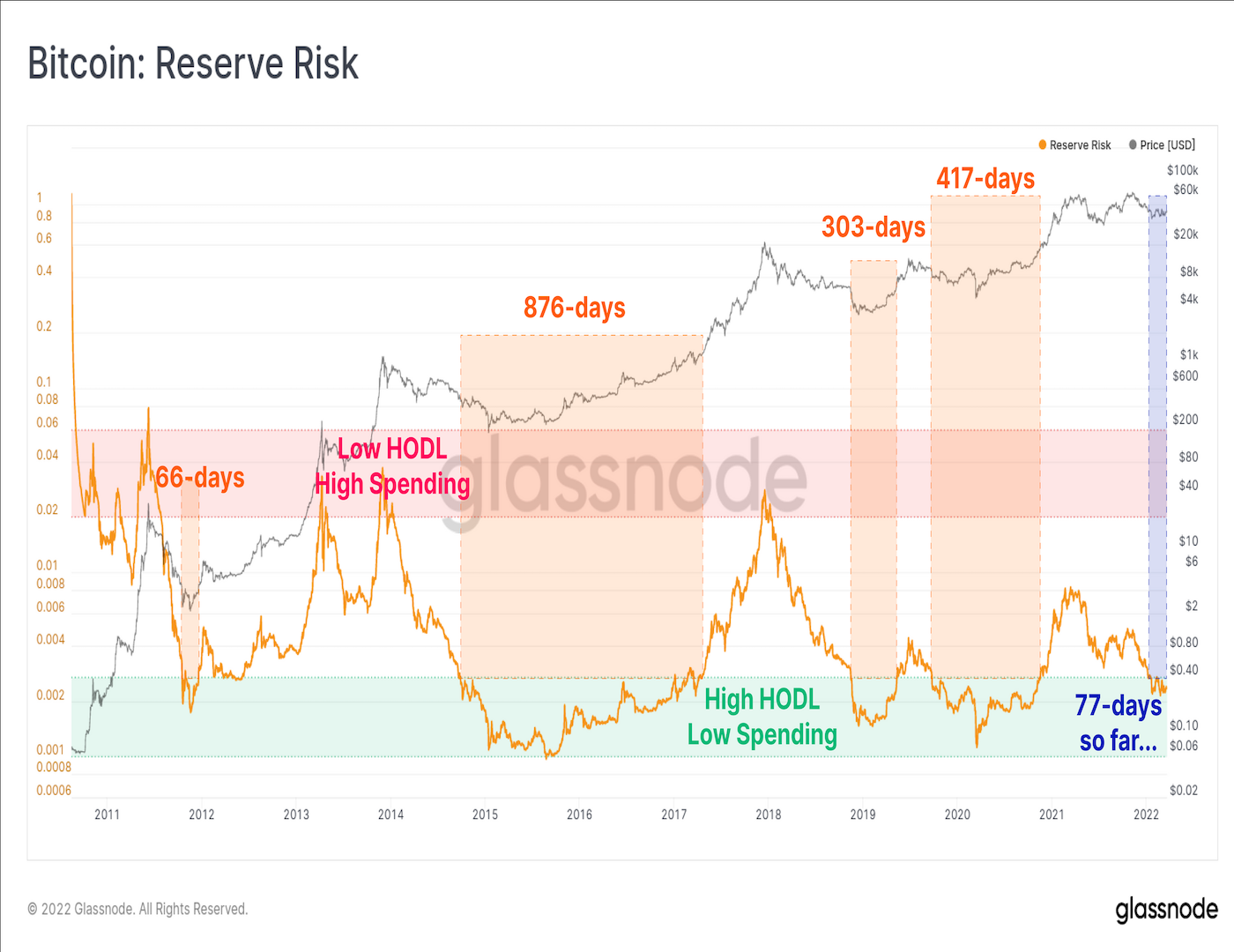 Reserve Risk was 0.0024 at the time of publication, having gained acceptance below 0.0027 in late January. When the risk-reward ratio is in the green, the statistic is considered appealing.
According to a weekly report provided by blockchain analytics startup Glassnode on Monday, "This metric will trade at low levels when there is heavy investor accumulation and Hodling is the preferred market strategy,"
In other words, a low reading implies that long-term crypto investors, known as Hodlers, are adamant about not spending their coins. As a result, prospective purchasers might consider dipping their toes into the market because the risk/reward ratio is excellent.
Reserve Risk, on the other hand, has previously remained in the green zone for extended periods of time, indicating a sluggish transition from the late stages of a bear market to the mid-stages of a bull market. As a result, investors interested in following the low Reserve Risk of bitcoin must be patient or have the ability to withstand long periods of underperformance before seeing substantial rewards. 
Was this writing helpful?