Interest in the Metaverse, the next-generation digital world where we can have a digital twin to play, socialize, learn, keep connected with friends, etc., has skyrocketed recently. Mattew Ball has famously described the Metaverse as a "massively scaled and interoperable network of real-time rendered 3D virtual worlds which can be experienced synchronously and persistently by an effectively unlimited number of users."
Investing in Metaverse property is the next big thing after the NFT market, where digital artwork can be bought as non-fungible tokens or NFTs, digital representations of real-world items. Virtual real estate now sells for hundreds of thousands of dollars, and Snoop Dogg, JP Morgan, HSBC, and other crypto enthusiasts have already invested in Metaverse real estate by acquiring plots of virtual land.
Finance in the Metaverse is powered by the blockchain, so you need cryptocurrency for purchasing land, a virtual house, or other NFT in the Metaverse. Otherwise, you might be shocked to learn that the virtual real estate market has a lot in common with its real-world equivalent, particularly when it comes to pricing aspects.
Read on for our in-depth guide to learn everything you need to know about the Metaverse properties and buying land in the Metaverse.
Let's jump right in!
What Is Metaverse Real Estate
The Metaverse is a three-dimensional, immersive virtual platform where users can interact with each other, digital objects, and AI-powered avatars in a very realistic and natural manner. It's also interoperable, allowing virtual games and collaboration spaces to coexist on a single platform. Users can move between virtual worlds, and multiple platforms can cohabit in the same environment.
The Metaverse has also been democratized, with no one organization, person, or entity owning it. Anyone can invest in it and make use of the available space, technology, and settings. The Metaverse relies on technologies such as virtual, augmented, and mixed reality (VR/AR/MR), as well as blockchain, artificial intelligence (AI), 5G, and cloud computing.
The Metaverse has the potential to become a virtual replica of our real world, allowing its users to monetize goods and services and generate income through virtual settings. One common method is to acquire land in the Metaverse, where buyers or renters can develop monetized properties.
Individual Metaverse, real estate plots, are so-called virtual 'parcels,' which are 3D space blocks where developers can superimpose objects, design VR worlds, overlay experiences, build interactions, etc.
A Metaverse often features a democratized governance body that decides how new parcels are generated, allocated, and made available for investment to real estate investors.
The majority of virtual land purchases presently take place on 4 Metaverse platforms: The Sandbox, Decentraland, Cryptovoxels, and Somnium. The parcel exists as a non-fungible token, also known as an NFT, which is a non-transferable digital asset stored on the blockchain.
The buyer will 'own' full rights to the land once ownership of the NFT is transferred to them, just like in real life, and will be able to resell it, create a virtual property on it, rent it out, etc.
Why Buy Virtual Land in The Metaverse
There are 2 main reasons for buying virtual real estate: Bragging rights and ROI (Return on investment). The idea is similar to purchasing an NFT: you possess this digital asset, and anybody can check its authenticity because it exists on the blockchain. You can later sell your virtual land if it grows in value, or you can rent it out for parties or special events. 
You can even build a virtual house on it and rent it out or put up a digital art gallery and allow aspiring artists to showcase their work.
Where to Buy Land in the Metaverse
Virtual real estate can be purchased in a variety of Metaverse games. Most of them ran out of land a long time ago, so you'll almost certainly have to buy a parcel or a house on the secondary market. But, before you rush out to get a deal, here's a rundown of some of the most popular spots to buy property. While several of these platforms allow users to buy tokens that may be used to make in-game purchases, we'll outline each floor's pricing in ETH.
The Sandbox

The Sandbox is a virtual world where players can create, own, and monetize gaming experiences. The Sandbox blockchain gaming platform comprises three interconnected products: VoxEdit, which allows users to design and animate 3D objects, Marketplace, which will enable users to upload, publish, and sell their NFT works; and Game Maker, which allows anyone to create incredible 3D games for free. Players can purchase LAND and populate it with their favorite games, digital assets, and interactive experiences.
Somnium Space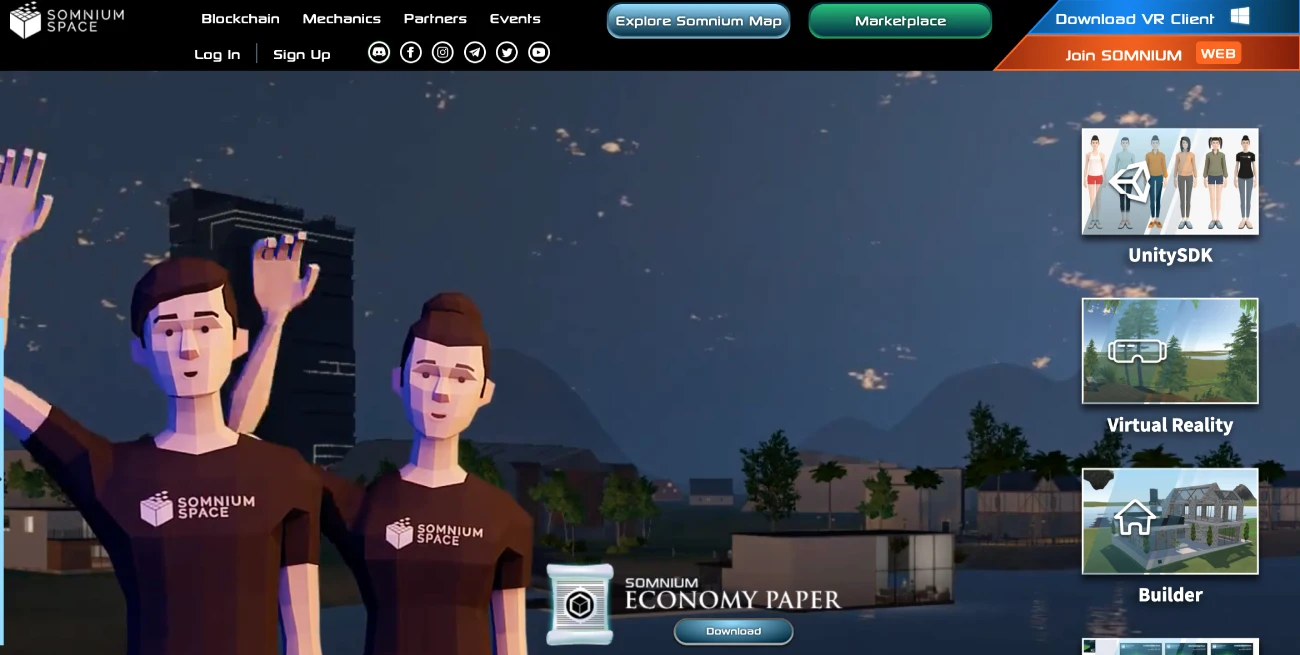 Somnium Space is an open virtual reality universe with its own currency and economy. Users can create fully personalized avatars, properties, and experiences on Somnium Space. The game includes a complete VR marketplace and can be played on a PC or mobile device, although it is best enjoyed with a VR headset.
Decentraland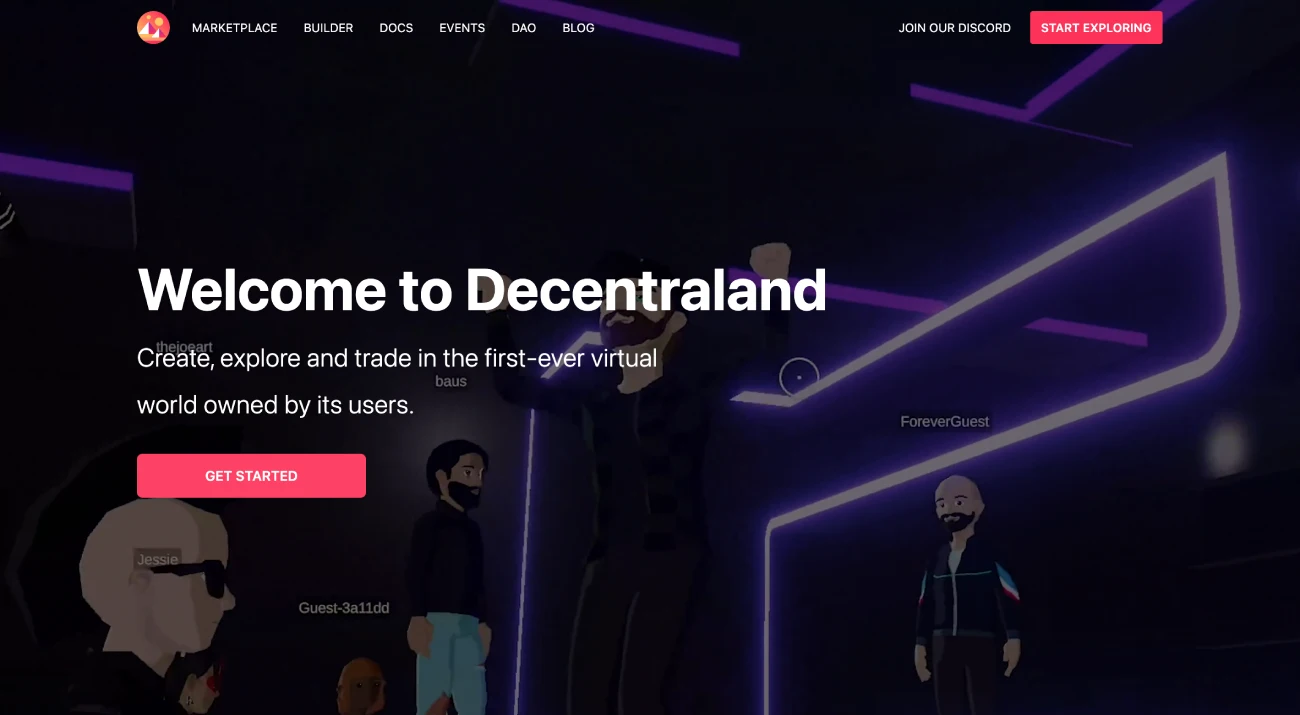 Decentraland is a 3D virtual world where users can explore and purchase virtual plots of land. The game can be played with or without a crypto wallet, although one is required to buy Metaverse wearables. After acquiring land, users can develop it using the Decentraland editor or by importing 3D models from external software.
Worldwide Webb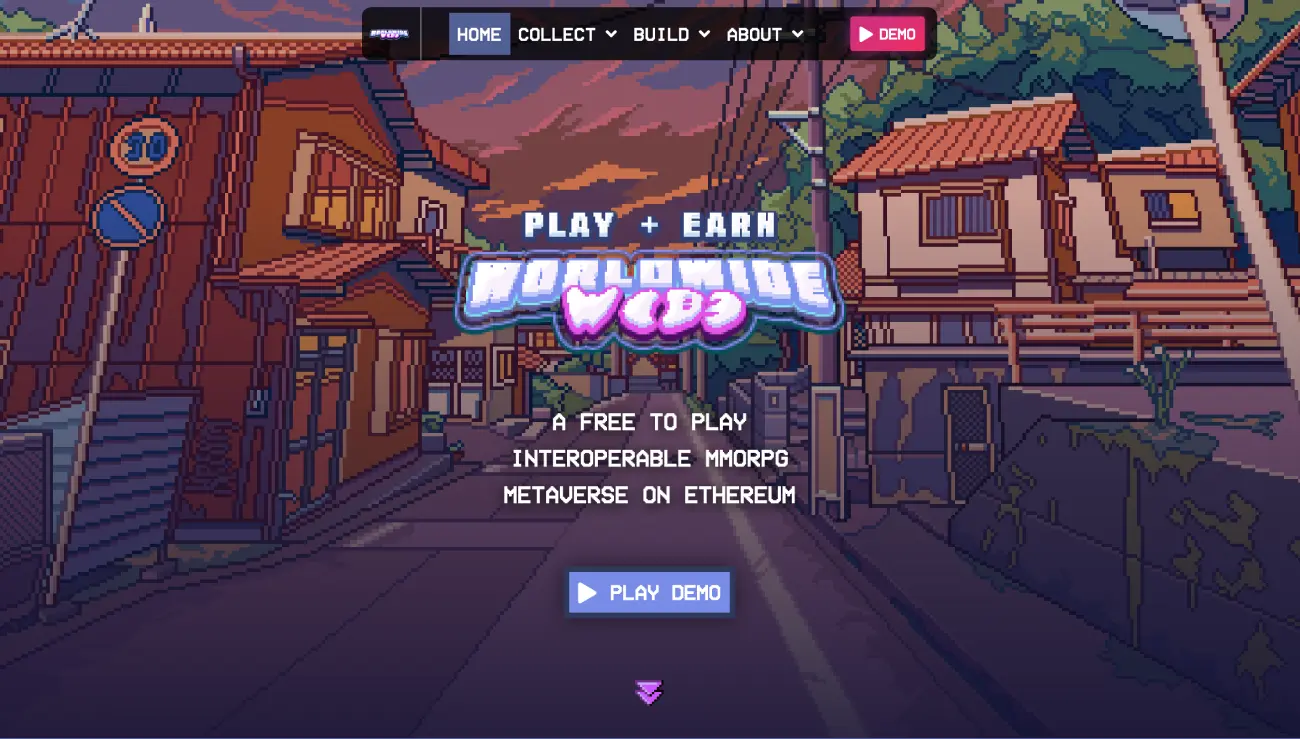 Worldwide Webb is a pixel art MMORPG Metaverse game that adds functionality to popular NFT projects. NFTs are utilized for in-game avatars, pets, virtual real estate, goods, and missions. Users own and govern virtual lands in Worldwide Webb and can use them to host social gatherings, pets, avatars, and games. They can even allow users to include custom smart contracts and sell their own artwork.
Cryptovoxels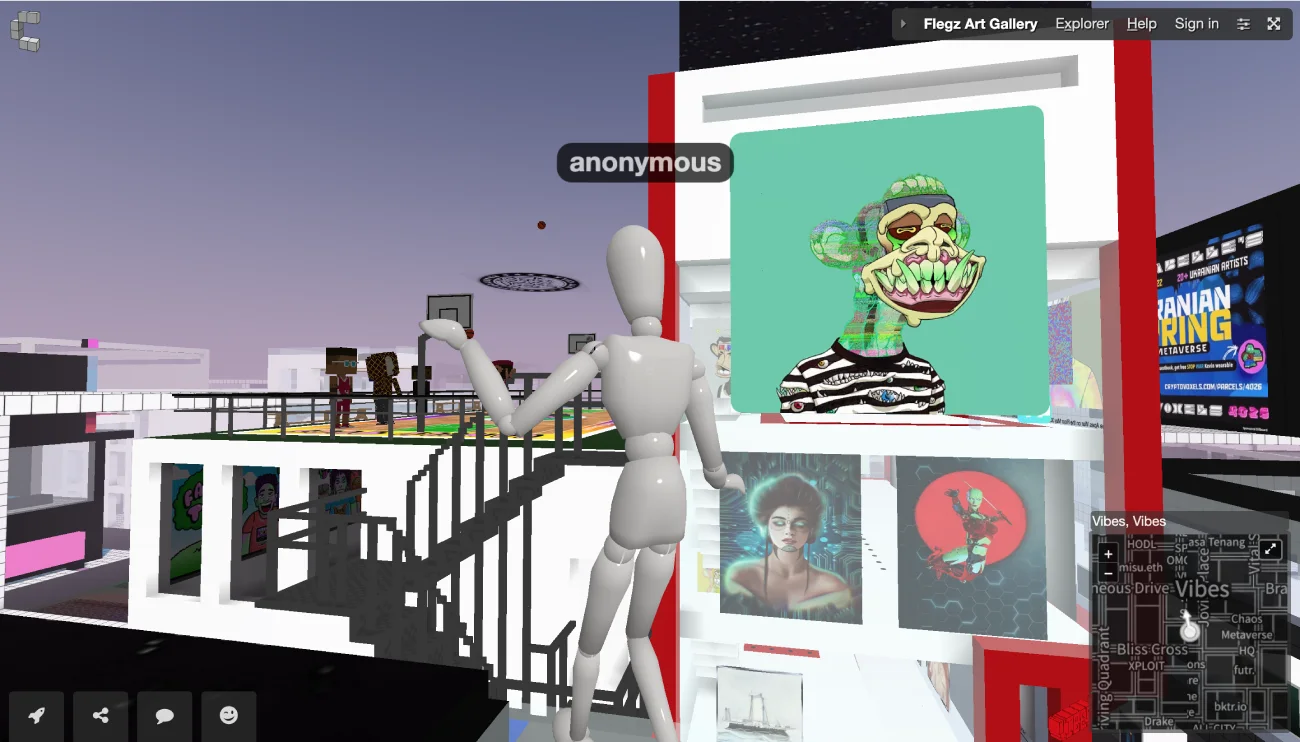 Cryptovoxels is a virtual environment that consists of "Origin City. Streets in the city are owned by "The Corporation," whereas parcels are held by individual users. Parcel owners can add and delete blocks and features as they see fit. Owners can also designate their parcel as a "sandbox parcel," which allows anyone to build on it.
How to Buy Virtual Land in the Metaverse
There are 3 options to consider if you want to buy digital land in the Metaverse:
1. Contact Metaverse Real Estate Brokers
The Metaverse is a huge digital environment with a lot of potential for real estate. It has a customized real estate market that includes mortgage providers, agents, and brokers specializing in virtual real estate. Many brokers have found their niche in the digital real estate business, which is still in its early stages.
You can work with Metaverse real estate agents and brokers to find and invest in the best Metaverse virtual properties.
2. Explore Cost-Efficient Metaverse Mortgages
The Metaverse mortgage can provide an affordable way for average buyers to get Metaverse land parcels. The concept of Metaverse mortgages is relatively new, and only a few companies offer them. Terra Zero, for example, provides Metaverse mortgages for vacant parcels of virtual land on major Metaverse platforms.
3. Purchase Metaverse Land Outright Using Cryptocurrency
This is the simplest way to buy virtual real estate in the Metaverse, and it's best for small and low-cost transactions. Follow these steps to make your purchase:
The first step is to visit the property marketplace of your choice on the Metaverse platform. This will be similar to app markets for software platforms.
Sign in, assess the land's location and design, compare prices, and create a shortlist.
Set up a digital wallet compatible with the Metaverse real estate you've chosen to buy and store your cryptocurrency. For example, in Decentraland, land can only be acquired using a currency called MANA, and you must have a wallet that supports the transaction.
Connect your digital wallet to your Metaverse account and ensure it has the crypto you need.
Click on the buy or purchase button to exchange the crypto amount for the real estate NFT.
Lastly, you can work with a company like Metaverse Properties to manage and develop your virtual real estate so that you can make better profits.
If you choose a mortgage option, the steps are similar; the only difference is that the mortgage provider will retain full ownership rights to the land NFT until you have paid it off, but you can manage and develop the property during this time.
How to Sell Land in The Metaverse
When it comes to selling your NFT Land, you usually have two alternatives. You can sell it through the Marketplace of the Metaverse project or a secondary marketplace. Only third-party marketplaces can currently be used for The Sandbox, but landowners will be able to sell directly through The Sandbox in the future for a 5% transaction fee in SAND.
Simply go to your profile and click the [Sell] button on your NFT to sell your land on OpenSea. After that, you'll be able to set up a fixed-price or timed auction.
Tips Before Buying NFT Virtual Land
When investing in NFT land, you should always follow best practices, just as you would with any other investment. Make sure to use the official project link or a reliable third-party marketplace for buying virtual land. 
Before making a purchase, thoroughly investigate the platform you intend to invest in and examine its basics. Don't forget that owning isn't your only option; you can also rent some land in the future if you need it for a specific reason.
Closing Thoughts
The digital real estate ecosystem has exploded in popularity in the cryptocurrency realm. As you can see, purchasing and selling digital land is an easy process. However, current pricing sometimes makes it more expensive than a real-world real estate investment. If you do decide to buy NFT metaverse land, keep in mind the risks and adhere to safe crypto procedures.
Hopefully, this CoinStats article was helpful and answered some of your questions concerning virtual world real estate and how to buy and sell land in the Metaverse. Make sure to visit our CoinStats blog to learn more about wallets, cryptocurrency exchanges, portfolio trackers, tokens, etc., and explore our in-depth buying guides on how to buy various cryptocurrencies, such as How to buy Ethereum Classic, What Is DeFi, How to Buy cryptocurrency, etc.
Investment Advice Disclaimer: The information contained on this website is provided to you solely for informational purposes and does not constitute a recommendation by CoinStats to buy, sell, or hold any securities, financial product, or instrument mentioned in the content, nor does it constitute investment advice, financial advice, trading advice, or any other type of advice.
Investments are subject to market risk, including the possible loss of principal. Cryptocurrency is a highly volatile market and sensitive to secondary activity, do your independent research, obtain your own advice, and only invest what you can afford to lose. There are significant risks involved in trading CFDs, stocks, and cryptocurrencies. Between 74-89% of retail investor accounts lose money when trading CFDs. You should consider your circumstances and obtain your advice before making any investment. You should also verify the nature of any product or service (including its legal status and relevant regulatory requirements) and consult the relevant regulators' websites before making any decision.