Dash (DASH), originally known as Xcoin and Darkcoin, was launched as a fork of Litecoin, which is a fork of the Bitcoin protocol. As one of the first altcoins in the market, the token distinguishes itself with innovative techniques used to address Bitcoin's laws with transaction times and privacy
The platform has integrated with 1700+ stores and services, including established e-commerce providers like Shopify and WooCommerce. It also falls within the top 100 largest cryptocurrencies by market capitalization on CoinMarketCap, standing at #78 as of April 2022. If you've been wondering how to buy DASH, you've come to the right place!
Read on to learn everything you need to know about DASH, its key features, how it works, why it's unique, and how to buy DASH tokens to diversify your crypto investment portfolio.
What Is Dash
Dash is an open-source cryptocurrency and blockchain designed to offer fast and affordable global payments without the need for the traditional financial system. It aims to provide a user-friendly experience by providing high-speed anonymous transactions.
Dash was created by Evan Duffield and launched in January 2014 as a fork of Litecoin (LTC), a fork of the Bitcoin protocol. It was initially known as XCoin but was later renamed Darkcoin, a name derived from its privacy features. In 2015, it was rebranded to Dash, which is short for Digital Cash.
Dash is one of the earliest altcoins to copy and modify the Bitcoin code. According to the project's white paper, Dash aims to improve upon Bitcoin (BTC) by ensuring more robust privacy and faster transactions. The intention was to deliver a lot more capabilities and gain more market traction.
Dash has built a scalable digital payments system and has grown to become one of the most popular networks in crypto markets. It aims to become a digital currency that can be used for daily transactions such as cash, credit card, or via PayPal.
How Dash Differs From Bitcoin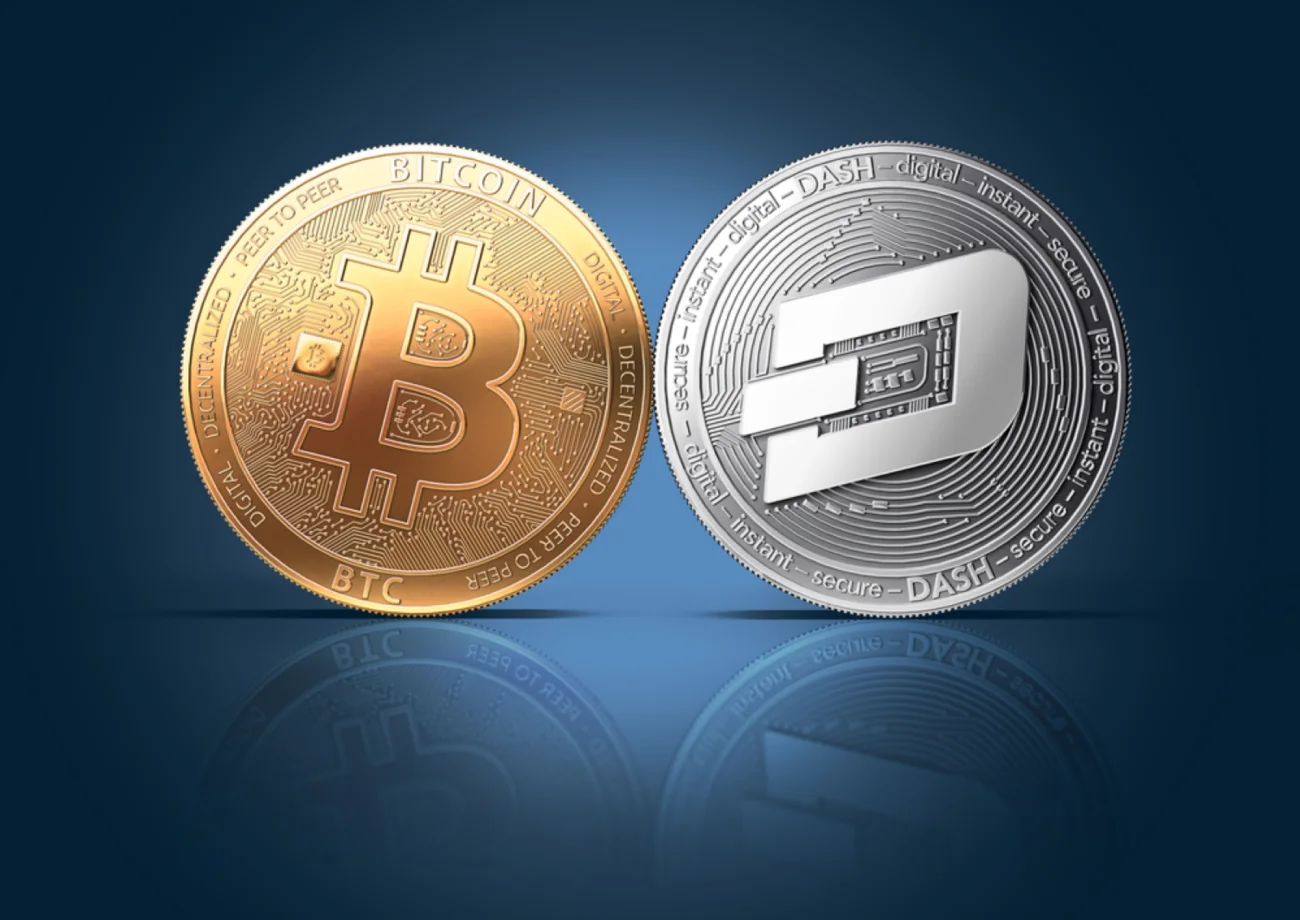 Dash is designed to be much more efficient than Bitcoin.
The two platforms have different mining algorithms (rules for the computational work used in mining a cryptocurrency). Dash operates with X11, a newer mining algorithm and a modification of the Proof-of-Stake (PoS) algorithm that demands less processing power in contrast to Bitcoin's Proof-of-Work (PoW) algorithm. It also uses CoinJoin mixing to make private transactions possible on its blockchain.
Since it went live, Dash has expanded to include features such as a two-tier network with incentivized nodes like "MasterNodes" and decentralized project governance; InstantSend, which allows for instantly settled payments; PrivateSend, which delivers additional optional privacy for transactions; and ChainLocks, which makes the Dash blockchain instantly immutable.
Dash's InstantSend feature enables transactions to be processed in seconds by allowing users to transfer DASH without waiting for transactions to be confirmed on the DASH blockchain. Since Dash 0.14 was released, all transactions have effectively been InstantSend transactions. On the other hand, BTC transactions take considerably more time.
The transaction fees on Dash are also much lower and are usually between $0.01 and $0.02. In contrast, BTC transaction fees start at $1 and can reach even more than $30.
MasterNodes
The Dash project is run by MasterNodes, which act as servers backed by collateral held in Dash. The MasterNodes are designed to securely deliver advanced services such as simplifying the verification and validation of transactions through governance using Dash's proposal system. All MasterNodes need 1,000 DASH in their systems to get started. They add a second layer service to the network and enable functions such as InstantSend, PrivateSend, and ChainLocks.
InstantSend
InstantSend allows users to transfer DASH tokens without having to wait for transactions to be confirmed on the Dash blockchain first. Users can then send the crypto to Masternodes, which lock funds before recording them in the next block.
PrivateSend
PrivateSend enables users to send transactions through a mixing service, where DASH tokens are sent to Masternodes. The Masternodes then mix these tokens with those of other users. As such, the trail is obscured, making it difficult to trace DASH transactions.
Experimental Features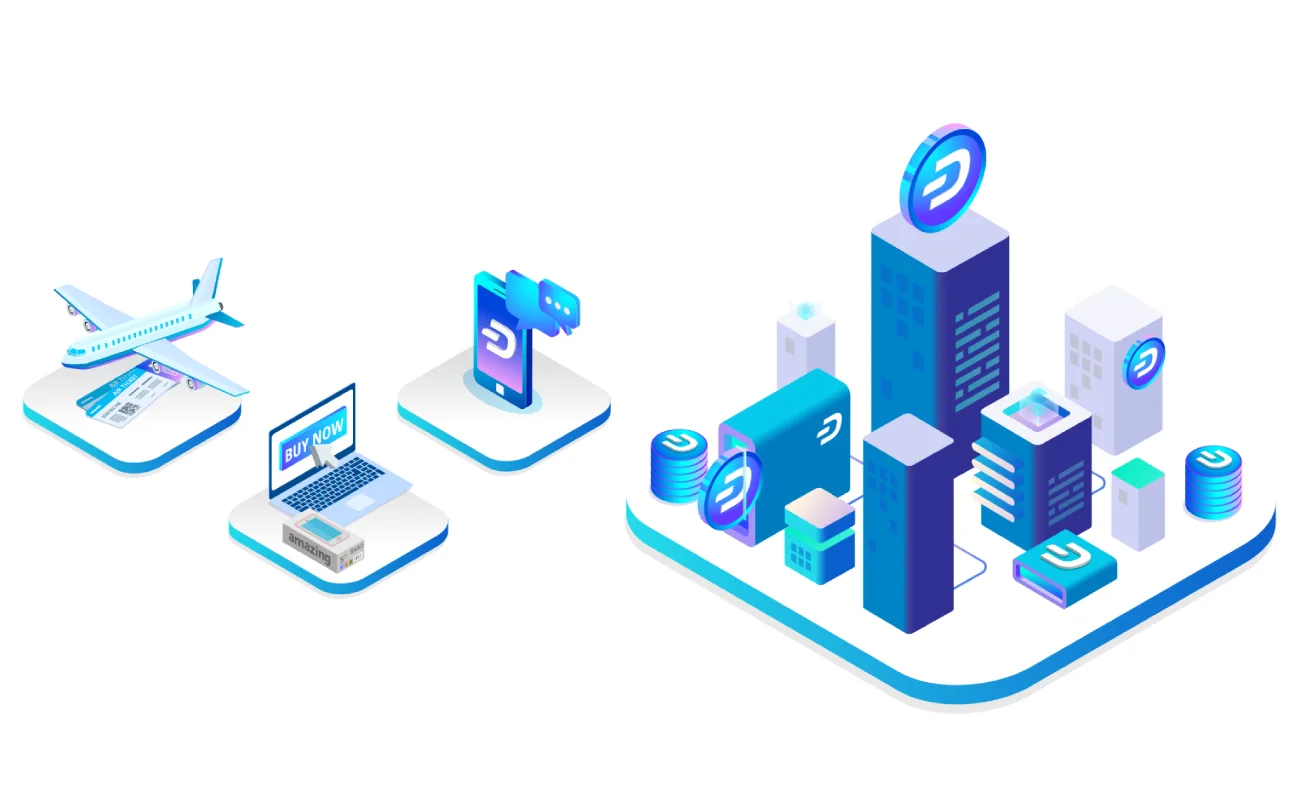 Dash further implements more experimental features that allow anyone who owns a certain amount of DASH tokens to participate in blockchain operations.
Dash operates on a modification of the Proof-of-Stake (PoS) consensus mechanism, a layer powered by miners who use hardware to solve cryptographic puzzles and create new blocks to secure the blockchain. Miners can, therefore, preserve the blockchain's transaction history and prevent double-spending. While Dash is based on Bitcoin's code, it's different from Bitcoin as the block time is only 2.5 minutes on Dash compared to 10 minutes for Bitcoin. Dash miners receive 45% of the DASH tokens mined in each block compared to Bitcoin miners, who take 100% of the BTC they mine.
Dash MasterNodes have various functionalities like facilitating instantaneous private transactions, rejecting improperly formed blocks from miners, and storing a complete copy of the blockchain ledger. 45% of the block rewards go to MasterNodes, and 10% – go to funding future proposals. Once miners have finished with a specific validation, they can vote on how the 10% should be allocated.
Anyone can propose a new feature or suggest a change in the network; however, the final decisions are only made by the MasterNodes. A new feature is implemented if the "yes" votes exceed the "no" votes by more than 10%.
What Makes Dash Unique
The MasterNodes system, which includes a special server with a complete copy of the Dash blockchain, is Dash's unique feature. MasterNodes power Dash features like InstantSend, which enables fully confirmed transactions in two seconds, and CoinJoin, which runs a sequence of transactions and makes them harder to trace. Users receive a part of the block rewards from Dash mining in exchange for running MasterNodes.
Most merchants don't accept many types of cryptocurrencies; however, Dash has had quite a lot of success in this area.
On 27th July 2021, Dash launched DashDirect, a retail savings app that allows you to make retail purchases using DASH tokens on more than 125 websites and 155,000 stores. It also comes with discounts depending on the retailer.
Dash's other noteworthy aspect is its user-friendly design. The Dash website has a clear explanation of how Dash works and where you can buy DASH tokens.
The DASH Token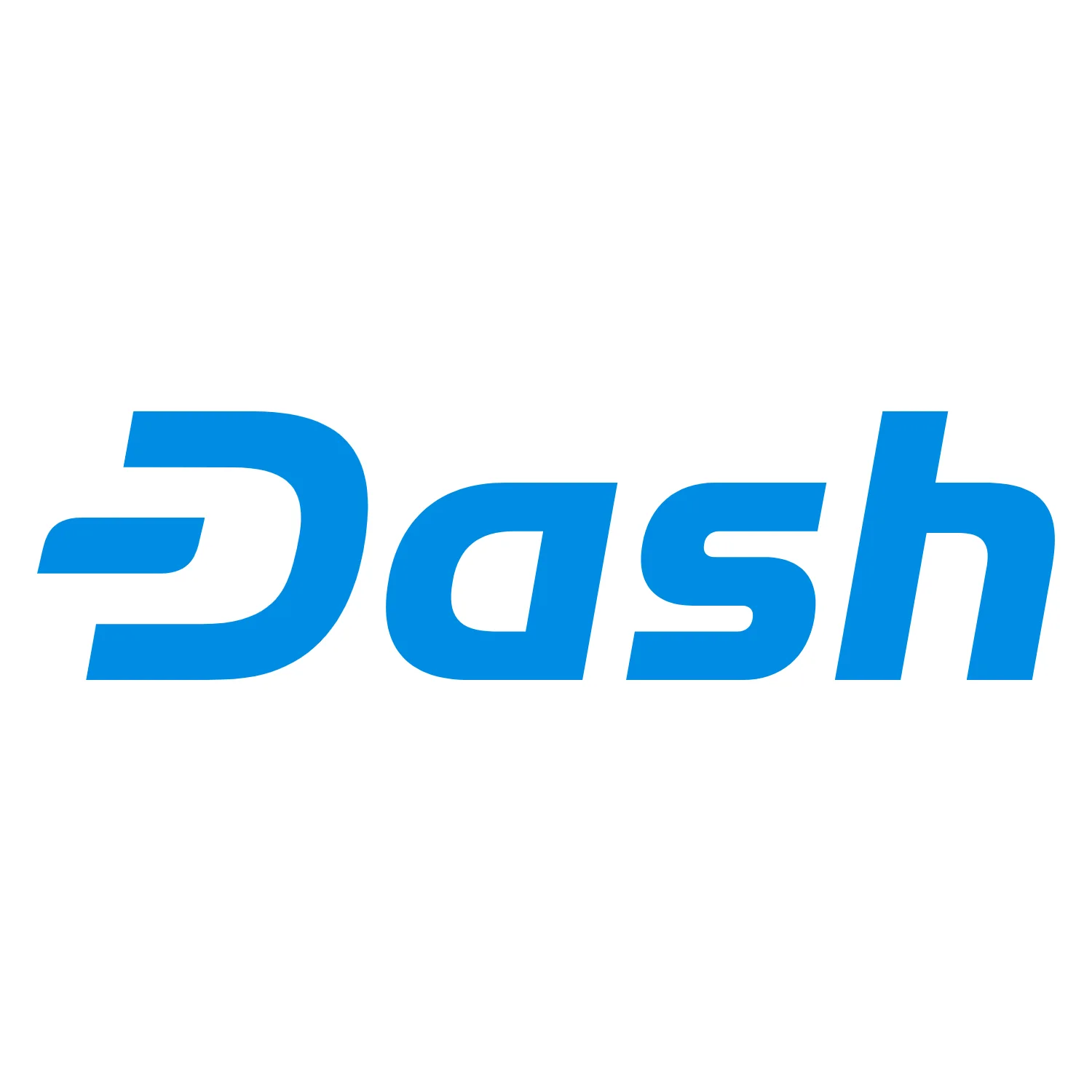 DASH is the native cryptocurrency for the Dash platform.
DASH is an inflationary asset with a supply cap of 18.9 million tokens. The Dash reward rate for mining decreases at the rate of 7% every year. The last DASH block is predicted to be mined around 2254.
The price history of DASH follows a pattern similar to that of BTC due to the basic correlation between the two. However, there are some differences between Dash and Bitcoin.
The price of DASH doubled in a single week at the beginning of March 2017, reaching a high price of nearly $60. The all-time low of DASH was recorded to be $0.2139 in February 2014, shortly after the coin's launch. The token reached its all-time high of $1,642.22 by December 2017.
Why Investors Buy DASH
Many users find DASH an exciting cryptocurrency for making private, quick, and secure transactions.
Investors should consider adding the token to their portfolio only if they believe that someday the market will favor protocols designed to enable efficient and convenient online payments. 
The DASH token's limited supply and deflationary nature may also attract new investors who believe DASH is a beneficial store of value.
What to Consider When Buying DASH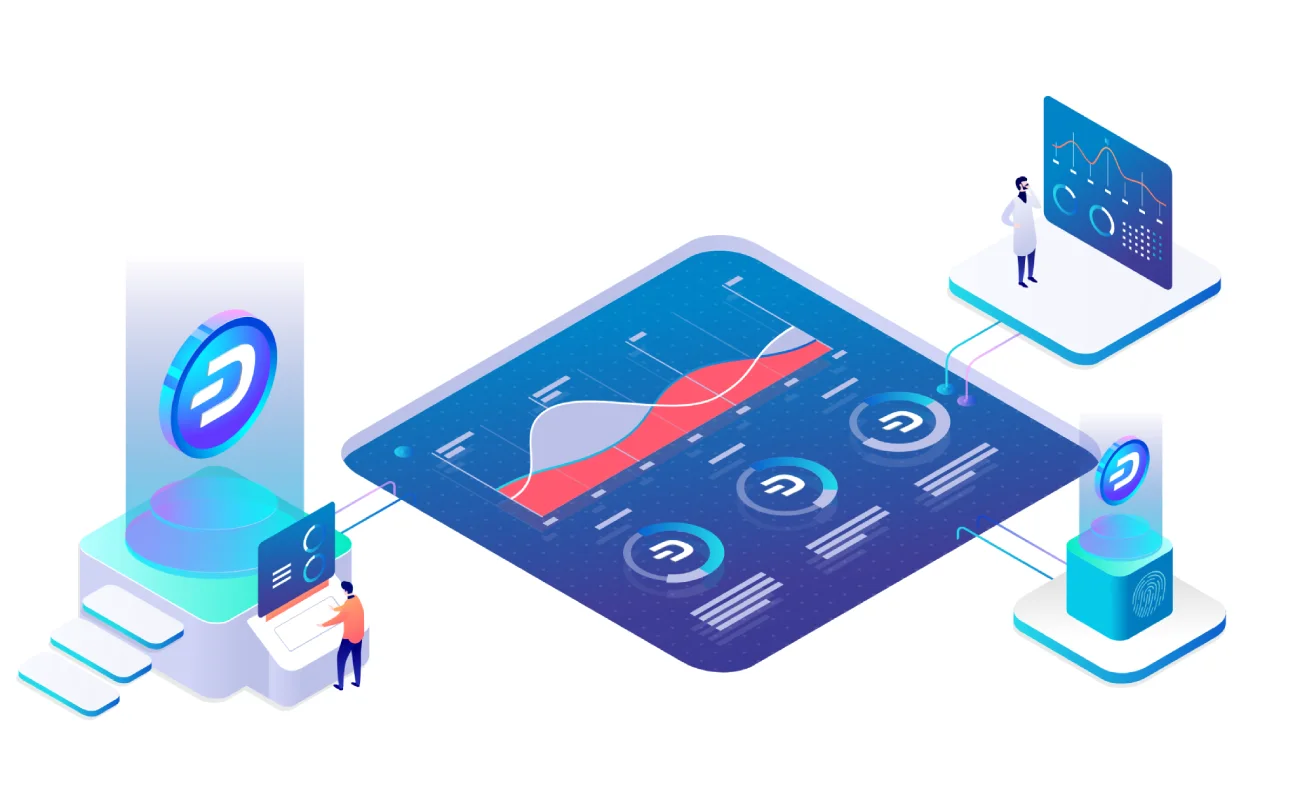 Cryptocurrencies are inherently complicated and highly volatile, so you must be fully aware of the market risk involved before purchasing or holding any type of cryptocurrency. If you're considering DASH as a potential addition to your portfolio, you must first consider the following factors:
Availability: DASH is listed on a range of global crypto exchanges making it easily accessible for traders and increasing the coin's credibility.
Supply: Due to its limited supply, DASH is predicted to reach its maximum supply by the year 2300, after which the price may increase.
Market Competition: DASH encounters strong competition from various popular cryptocurrencies like Bitcoin (BTC), Bitcoin Cash (BCH), Litecoin (LTC), Ripple (XRP), and privacy coins like PIVX (PIVX) and Monero (XMR). DASH's popularity and adoption relative to these competing coins will affect and determine its market value.
Emission Rate: DASH's variable block reward is decreasing at a rate of 7.1% each year. The Dash whitepaper mentions that Dash will keep emitting coins for around 192 years before a full year of mining creates less than 1 DASH. Only 14 more DASH will be created after 2209, and it will take 231 years to generate the last DASH, starting in 2246 and ending in 2477 when emission completely stops.
Decentralized Governance: Dash has a decentralized governance and voting system, according to which any member of the community has the right to submit a proposal for a new feature or change to the Dash network. These proposals are then voted on by MasterNodes.
Buying DASH
Follow these simple steps for buying DASH coins:
Step #1: Pick a Cryptocurrency Exchange
You must compare the popular cryptocurrency exchanges' features before choosing the one that suits your investment needs best. Some of the factors to consider are supported deposit methods, trading fees, customer support, ease of use, and local requirements.
This information can be found by clicking on the exchange name (like KuCoin Cryptocurrency Exchange or eToro USA LLC Cryptocurrency Trading, etc.) in the table, which will take you to its review page.
You can buy DASH using fiat currencies like euros, pounds, dollars, etc., on an exchange service like Binance, Binance Futures, HitBTC, HuobiGlobal, OKEx, Yobit, ZBCom, etc.
Step #2: Create an Account
After you've decided on a reliable crypto exchange, the next step is to open a trading account to buy or sell DASH. The requirements differ depending on the trading platforms. Personal information such as your name, contact number,  email address, home address, social security number, and a copy of your driver's license, passport, or government-issued ID will be required by most exchanges.
You may have to prove your address by uploading a bank statement, a credit card statement, or a utility bill. You might also need to identify yourself through a webcam or smartphone in compliance with Know Your Customer (KYC) rules if you plan to deposit fiat currency from your bank account to purchase cryptocurrency.
Some exchanges allow users to trade DASH without passing KYC. However, they won't allow you to transfer local currency from your bank account; therefore, if you plan to purchase DASH with US dollars, you will need to pass the KYC requirements.
After verifying your ID, you may want to enable the two-factor authentication system (2FA) to add an extra layer of security to your account.
Step #3: Deposit Funds
After setting up your account, the next step would involve depositing funds to purchase DASH and other cryptocurrencies. You can use your bank account, debit/credit card, or crypto coins from a different crypto wallet. The payment method you use will be determined by the trading platform, location, and preferences.
Bank Account: While a bank or wire transfer from a local bank account is typically free, you must double-check with the DASH exchange you choose before you deposit funds.
Credit or Debit Card: You can conveniently link a card to your account to top it up. Once linked, you can use your card to make an instant purchase or set up a recurring purchase. However, you must be aware that using your cards for buying crypto may attract an additional fee.
Cryptocurrency: Usually, you can buy DASH by trading it for other cryptocurrencies like BTC or a stablecoin. Since this varies between exchanges, you will need to search for DASH on the spot market to check the cryptocurrencies for which it can be traded.
Step #4: Get a DASH Wallet
If you already have a DASH wallet, you can buy DASH directly from CoinStats by checking the coin's current price and performance and directly swapping your existing coins for DASH tokens.
You may choose to store your newly purchased DASH coins on the exchange or move it to a more secure personal wallet that supports DASH. Many users prefer using their private wallets to ensure full ownership over their crypto assets or use them with other DeFi apps.
A hardware wallet, also known as cold storage, is a physical device, much like an HDD or an SSD. Hardware wallets are usually considered the most secure wallets to store your digital assets as they offer offline storage, thereby significantly reducing the risk of hacks.
You can also choose a software or digital wallet if you plan to trade your DASH tokens frequently. Whichever wallet you choose, always remember to keep your private keys safe and never share them with anyone.
For a complete list of crypto wallets that support Dash, visit the official Dash site.
Step #5: Buy Dash
After successfully completing the above steps, you can start buying DASH. The easiest way is to use the 'instant buy' option to purchase DASH for a set price (if the cryptocurrency exchange you have chosen offers this feature). Select Dash from the list of assets or search for Dash by typing "Dash" into the search bar. When you see Dash show up in the results, tap it to open the purchase screen and enter the amount you want to buy.
You can also open a trade in the spot market to set your own price—the most common way to buy cryptocurrency. The instant buy feature is straightforward but may be more expensive than the spot market option.
Before completing your purchase, you should also check the performance of your existing portfolio using a crypto portfolio tracker and monitor the DASH current price to decide if it's the right time to buy.
You can also cash out your DASH with the same exchange by placing a sell order.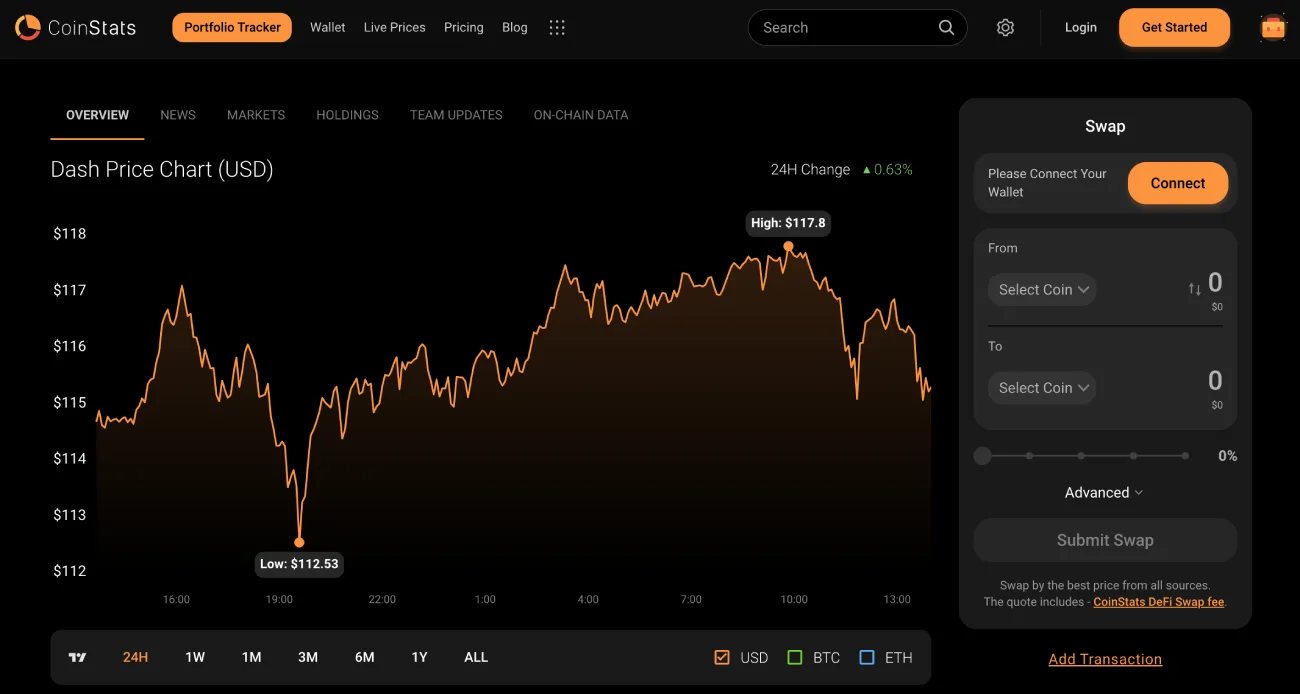 Investability of the DASH Token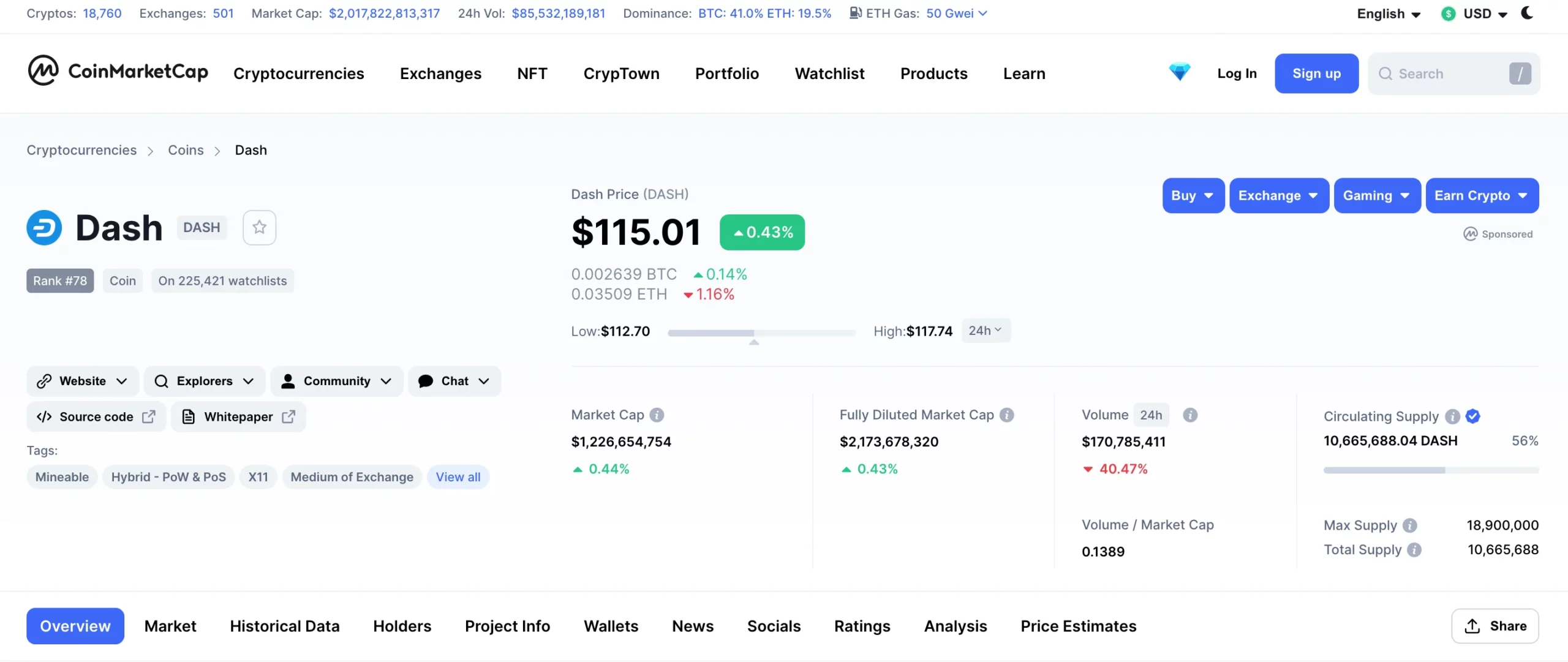 According to walletinvestor.com, DASH is predicted to be an excellent long-term (1-year) investment based on the token's price and performance as of April 2022. Based on the site's technical forecasts, you can expect the DASH price to increase to $323.966 by 2027. Therefore, your $100 investment may reach $265.75 in 2027.
That said, the opinions expressed in this article should not be considered direct investment advice.
Closing Thoughts
The growing popularity of the Dash platform has motivated plenty of users to buy DASH coins and start actively trading them. The past performance of DASH, as well as analytical predictions about its future, indicate that the DASH coin may be a great long-term investment.
Even after you have purchased your DASH coins, you must continue to monitor the protocol's performance and adjust your trading plan accordingly to keep your crypto investments safe. Also, remember to use a secure software or hardware wallet to store your tokens and keep the private key to your DASH wallet extra safe.
Platforms like CoinStats make it easy to purchase DASH using fiat currency, credit or debit card, a bank transfer, or other crypto coins. You can also benefit from our CoinStats blog to learn more about DeFi and use the CoinStats portfolio tracker to keep track of your crypto investment portfolio or store your DASH coins securely in the CoinStats Wallet.
Investment Advice Disclaimer: The information contained on this website is provided to you solely for informational purposes and does not constitute a recommendation by CoinStats to buy, sell, or hold any securities, financial product, or instrument mentioned in the content, nor does it constitute investment advice, financial advice, trading advice, or any other type of advice. Our information is based on independent research and may differ from what you see from a financial institution or service provider.
Investments are subject to market risk, including the possible loss of principal. Cryptocurrency is a highly volatile market and sensitive to secondary activity, do your independent research, obtain your own advice, and be sure never to invest more money than you can afford to lose. There are significant risks involved in trading CFDs, stocks, and cryptocurrencies. Between 74-89% of retail investor accounts lose money when trading CFDs. You should consider your circumstances and obtain your advice before making any investment. You should also verify the nature of any product or service (including its legal status and relevant regulatory requirements) and consult the relevant regulators' websites before making any decision.