As crypto gains wider adoption, more and more traditional stock trading platforms see the value in integrating cryptocurrency investment into their functionality. In November of 2020, Webull became one of those platforms announcing its adoption of crypto. Since then, Webull has added to the number of supported cryptocurrencies, becoming a great option for getting started in crypto.
If you're looking to buy crypto on Webull, you've come to the right place. In this Webull crypto review, we'll go over everything related to Webull Crypto, from creating your Webull account to making the most of the platform's features and services.
Let's dive right in!
Webull Overview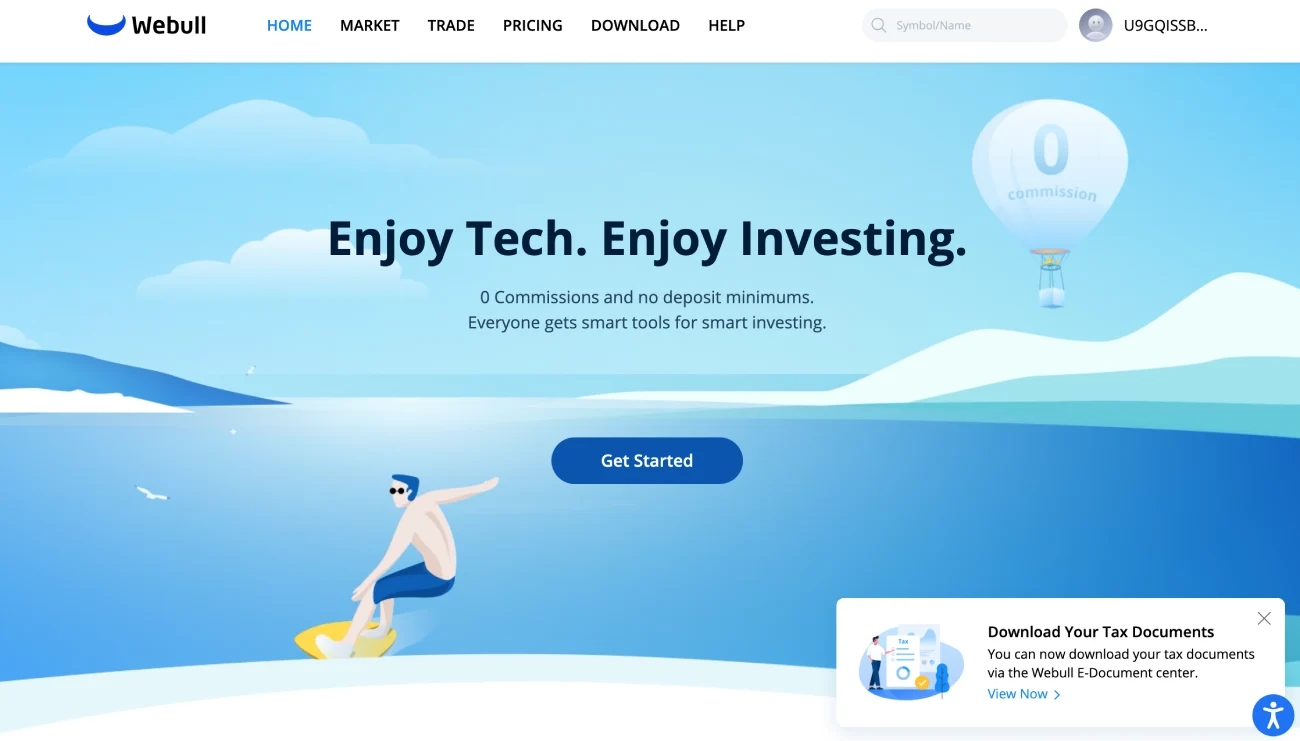 Webull is an electronic trading platform founded in 2017 by Wang Anquan. This makes it a relative newcomer: For comparison, the digital-only trading platform Robinhood, Webull's main competitor, was founded in 2013.
In August of 2020, the number of registered users was 11 million, with an average age of 40 and an average account holding about $4000. Webull's userbase has further grown since then.
The trading platform offers trading of stocks, exchange-traded funds, margins, options, and crypto without commissions. One of its key advantages is the availability of extremely user-friendly mobile and desktop versions.
Webull's mobile-first philosophy, however, doesn't detract from its arsenal of advanced charting and screener tools. The intuitive and simple interface of the Webull app allows one to register and start trading in just a few minutes. A full tour of the platform usually takes about 30 minutes.
The platform is cost-effective: It has no deposit minimums and charges no commissions. While Webull has some clear shortcomings, such as the relative lack of educational resources and no option for mutual trading, it is still a solid option for active traders.
Webull's integration of crypto trading has given its userbase of traditional traders the option of further diversifying their portfolio without learning the ropes of a dedicated crypto exchange, such as Coinbase. Upon launch, Webull Crypto supported only a handful of crypto assets but has since grown to include 23 additional cryptocurrencies, such as Terra (LUNA) and Decentraland (MANA).
Webull Financial LLC is a member of the Financial Industry Regulatory Authority, Securities Investor Protection Corporation, The New York Stock Exchange, NASDAQ and Cboe EDGX Exchange, Inc.
The trading platform is owned by Fumi Technology, a China-based holding company. Its investors include Xiaomi, Hongdao Capital, and Shunwei Capital. While the company is headquartered in New York, the technological aspects are handled by a team in Hunan, China.
Webull Features and Services
Webull offers a great variety of features and services, from margin trading to in-depth portfolio analysis. Here's a list of the most essential of them.
Free trading of most productsAs per the industry standard, you can purchase stocks, options, ETFs, ADRs, and crypto with zero commissions. However, note that the platform charges 1% both when you buy and sell crypto on Webull.
Smooth user experienceBoth the mobile app and the desktop version are well-designed, so you can perform complex analyses of the market via 50+ Webull widgets and then invest in crypto funds from all around the world with no setbacks.
Attractive signup promotionsWebull offers very attractive signup promotions. For example, now you can get five free stocks if you open and fund a new account. Or, you can get $5 worth of crypto if you complete your first crypto transaction. These promotions further incentivize people to sign up and buy crypto or invest in stocks via Webull specifically.
Fractional coinsAs you know from Bitcoin, some cryptocurrencies now cost so much that a regular trader will have trouble purchasing one unit of it. Luckily, Webull offers fractional coins, meaning you can just invest in a fraction of a coin.
Instant settlement of crypto transactionsWhile equities such as stocks and ETFs take a few days to appear in your account after a transaction, crypto settles instantly. It's easy to understand why: Neither buying crypto nor selling crypto requires physical processes to occur.
23-hour availabilitySince no officially recognized exchange regulates or brokers crypto trading, it's open almost 24/7. There is an hour of maintenance work every day, so you can trade crypto on Webull 23/7 without holidays.
Great margin trading ratesAs you probably know, margin trading is essentially trading with borrowed money. On Webull, you can borrow up to three times your account equity. Bear in mind that Webull asks you to have at least $2000 on your account before you get margin trading access. Plus, you'll be paying margin interest rates on a daily/monthly basis.
Stellar supportWebull support is there for you 24/7 online or via phone. Any issues you encounter will be addressed in a timely manner. Webull customer support has multiple positive reviews, so you'll likely encounter friendly and responsive staff.
How to Buy Crypto on Webull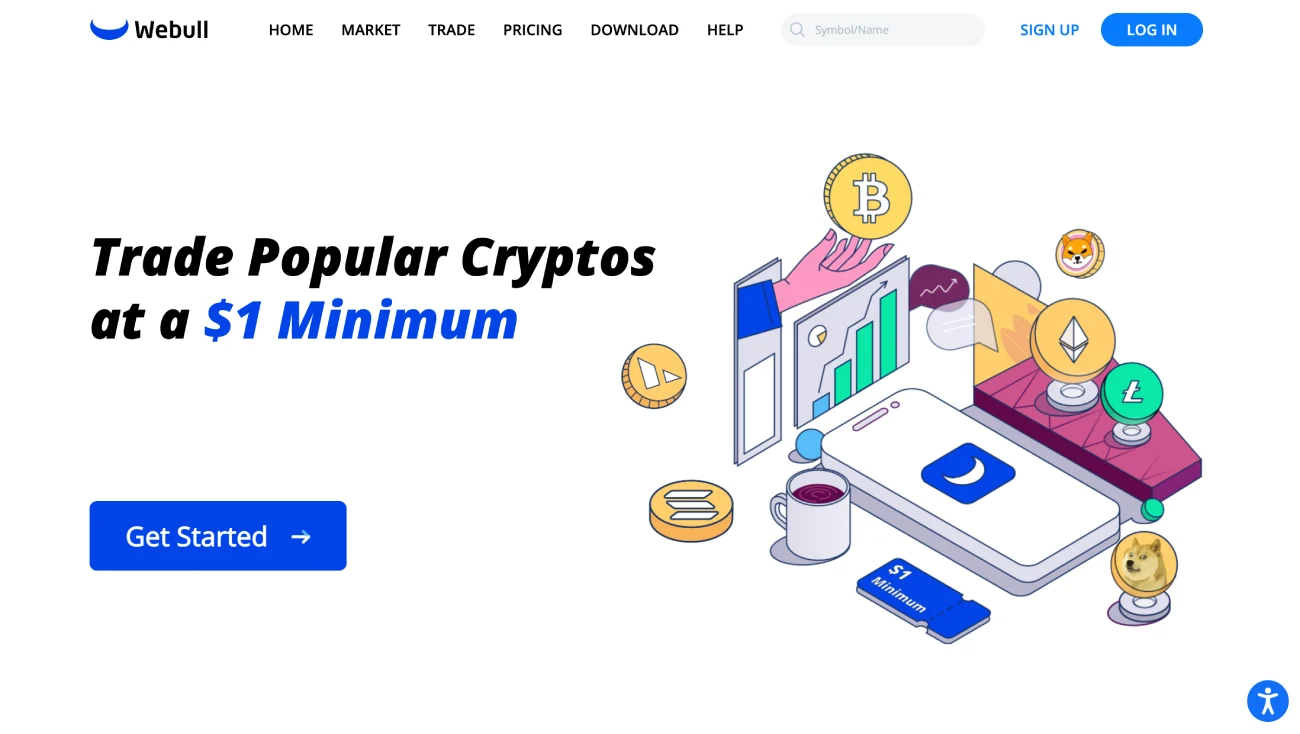 Registering on Webull is a breeze. Just follow these steps and you'll be trading crypto in no time.
Step #1: Create an Account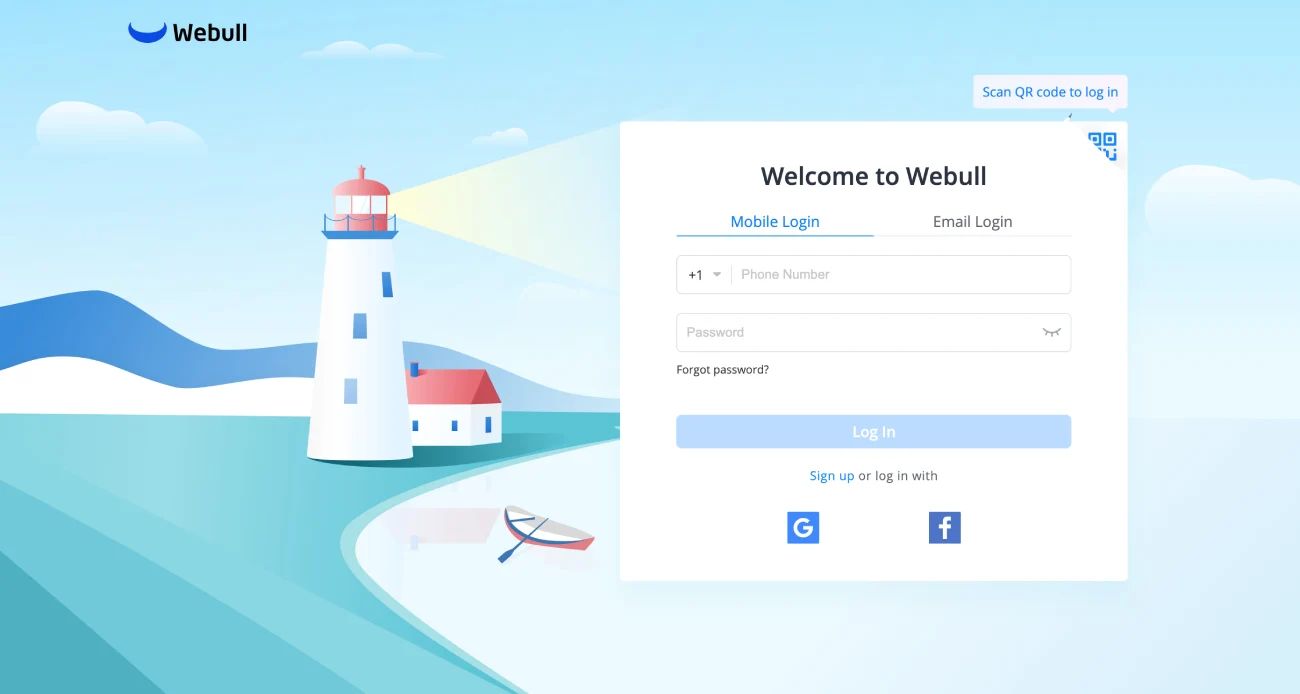 You need to be over 18 years old and have a valid US ID to open a Webull account. After you fill out your phone number and verify it, you'll need to submit your ID. All accounts are verified within 24 hours and most take about an hour.
Step #2: Request Permission
Once you have your account, you'll need to request permission to trade crypto on Webull. For that, you must navigate to the Crypto Trading page.
Step #3: Add Funds
After you're granted permission to trade crypto on Webull, you must add funds to your account. Just like with most platforms, you may use your bank account, wire the funds, do a bank-to-bank transfer, etc. Wire transfers are significantly faster than electronic ones, but your bank account will be charged extra fees by both Webull and your bank.
Step #4: Pick a Cryptocurrency
Should you go with Bitcoin Cash or Shiba Inu? Maybe ETH or REN? Next up you must choose the cryptocurrency you want to invest in. Here you may want to do your research: There's an art to buying crypto, and you have to master it.
You can purchase via a market order or a limit order. What's the difference between the two? A market order is carried out immediately at the current crypto exchange rate, a limit order is carried out only if certain conditions are met.
Step #5: Start Managing Your Holdings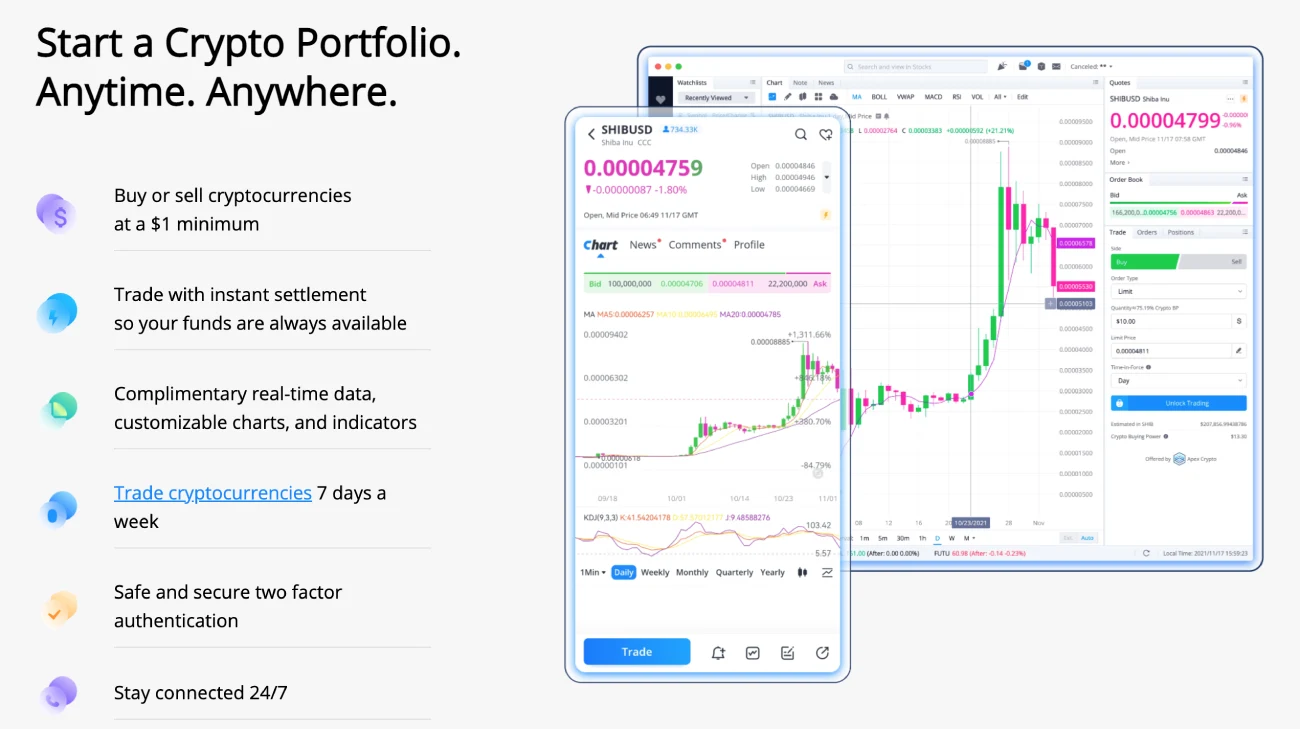 After buying crypto, you must start tracking and managing it. While Webull offers a pretty extensive toolset for keeping an eye on your holdings, you may want to try out crypto-specific trackers.
Investment Advice Disclaimer: The information contained on this website is provided to you solely for informational purposes and does not constitute a recommendation by CoinStats to buy, sell, or hold any securities, financial product, or instrument mentioned in the content, nor does it constitute investment advice, financial advice, trading advice, or any other type of advice. Our information is based on independent research and may differ from what you see from a financial institution or service provider.
Investments are subject to market risk, including the possible loss of principal. Cryptocurrency is a highly volatile market and sensitive to secondary activity, do your independent research, obtain your own advice, and be sure never to invest more money than you can afford to lose. There are significant risks involved in trading CFDs, stocks, and cryptocurrencies. Between 74-89% of retail investor accounts lose money when trading CFDs. You should consider your circumstances and obtain your advice before making any investment. You should also verify the nature of any product or service (including its legal status and relevant regulatory requirements) and consult the relevant regulators' websites before making any decision.
Webull Pros and Cons
Of course, no platform is perfect, but if you're looking to start trading crypto on Webull, you'll find more advantages than shortcomings.
Pros
A smooth and intuitive mobile app experience
Effortless registration process
Advanced tools for detailed analytics and market data processing
No-commission trading for most products
No minimum balance requirements or ongoing fees
Easy way to branch out and try more traditional trading
High-level security
24/7 support online and over the phone
Cons
If you're a seasoned crypto investor, you'll find the list of coins limited
Webull Crypto doesn't offer a wallet, so you can't withdraw crypto directly
You don't technically "own" your crypto assets, you don't have the keys to transfer crypto
Limited educational resources
You must reside in the US and have valid US ID to open an account
FAQs
Have a question about your Webull account, the Webull app, or some aspect of Webull Crypto? We have the answers.
Which Cryptocurrencies Are Available on Webull?
Initially, Webull Crypto supported a very limited number of crypto assets. As of April 2022, it supports Bitcoin (BTCUSD), Ethereum (ETHUSD), Ethereum Classic (ETCUSD), Litecoin (LTCUSD), Bitcoin Cash (BCHUSD), Dogecoin (DOGEUSD), Shiba Inu (SHIBUSD), Decentraland (MANAUSD), Zcash (ZECUSD), Stella Lumens (XLMUSD), Cardano (ADAUSD), Dash (DASHUSD), Basic Attention Token (BATUSD), Aave (AAVEUSD), Chainlink (LINKUSD), Uniswap Protocol Token (UNIUSD), Algorand (ALGOUSD), Polygon (MATICUSD), Sushi (SUSHIUSD), Avalanche (AVAXUSD), Terra (LUNAUSD), REN (RENUSD), Solana (SOLUSD), Cosmos(ATOMUSD), Fantom (FTMUSD), Tezos (XTZUSD), The Graph (GRTUSD), CurveDAO Token (CRVUSD), Loopring (LRCUSD), USD Coin (USDCUSD), Crypto.com Coin (CROUSD), Harmony (ONEUSD), yearn.finance (YFIUSD), and Apecoin (APEUSD) through Apex Crypto llc.
Note that the crypto market is evolving fast and you may not find the coin you wanted to invest in here, but stay tuned because Webull is constantly working on adding to its list of available crypto assets.
How Does Webull Compare to Other Crypto Trading Platforms
If you compare Webull to other electronic trading platforms that also offer crypto, such as Robinhood, Webull has some advantages. For example, Webull offers extended trading hours and a significantly longer list of cryptocurrency assets. On the other hand, however, Robinhood has a more robust security system and allows users to fund their accounts via a debit card. Webull doesn't offer that functionality yet.
But if you're looking to buy crypto specifically and compare Webull to dedicated cryptocurrency exchanges and crypto wallets, it does fall short. First of all, crypto-specific platforms offer more diversity. Secondly, the freedom to buy and sell crypto from a wallet directly without liquidating is significantly more convenient. And finally, a lot of crypto enthusiasts are looking to not only buy crypto to hopefully watch it gain value but are also looking to own it, and that often means owning the keys to a wallet also.
Besides, in contrast to Webull and Robinhood, dedicated crypto platforms are more often than not open internationally, because anonymity and globalism constitute an important part of the crypto ecosystem's purpose and philosophy. In an increasingly interconnected world, this means crypto-specific companies have a lot of leverage.
Does Webull Offer A Crypto Wallet
Unfortunately, Webull doesn't offer a crypto wallet, so you cannot freely transfer crypto to and from your account.
Is Webull For Me
If you're an active trader who's looking to benefit from the extended trading hours or if you want to invest in stocks, options, and ETFs in addition to crypto from one place, Webull is for you. Especially if you're a millennial, you will appreciate the flexible mobile-first approach of the platform.
Here's how Webull CEO Anthony Denier has described the platform's users:
"Our traders are very quick to take positions. They go in and out of positions very, very fast. They tend to use sophisticated analytical tools such as charting and backtesting to decide when to enter and exit their trades."
If this sounds like you, Webull may be the right trading platform for you.
Can I Transfer My Webull Crypto to Another Wallet
No, you cannot transfer your crypto holdings from Webull to another wallet without liquidating it (turning it into $ first). This is a definite disadvantage for serious crypto investors, who value flexibility in transferring holdings above all.
Is Webull Safe
Yes, Webull is as safe and legitimate as any other online broker. The SIPC coverage for your investments, 2-factor authentication, and various cybersecurity measures safeguard your Webull investments.
But you have to note that the traditional trading on Webull (stocks, options, etc.) is managed by a different body than crypto on Webull. The former is done through Webull Financial LLC, which is registered and regulated by the Securities and Exchange Commission (SEC) and the Financial Industry Regulatory Authority (FINRA).
On the other hand, Webull Crypto llc is not a registered broker-dealer, not a FINRA member, and not FDIC or SIPC-insured.
Is Webull Free
Yes, Webull is free to use. The 1% markup/markdown they charge is included in the exchange rate. If you want access to premium data, however, it's anywhere between $2.99 to $24.99 per month. Webull, just like any online broker, makes money from margin trading interest rates, deposit and withdrawal fees, and order flow.
Conclusion
Crypto trading on Webull has many advantages, especially if you're a newcomer to the world of crypto and just want to test the waters. The advantages include the excellent mobile app, the extended trading hours, the availability of margin trading on competitive terms, and the option to invest in stocks and other more traditional assets from one place.
That being said, if you're an intermediate or professional crypto investor, and crypto trading is your main focus, you may want to use dedicated cryptocurrency exchanges and crypto wallets: Being free to swap coins whenever, keeping funds in a hardware wallet, and having the option to invest in 20,000+ coins (like on CoinStats, for example) is priceless.
Hope you enjoyed this Webull Crypto review. Make sure to check out our guide on buying crypto on Robinhood next. And good luck with your trading going forward!