Are you from a country that requires you file crypto taxes? Or even NFT taxes? Don't fret, we have it all covered.
Crypto tax report generation can be, as the song goes, better, faster, stronger – okay, in this case  easier, faster, and more secure. Luckily for all overwhelmed tax filers, CoinStats has partnered with CoinLedger to bring you effortless crypto tax reporting at a 10% discount.
Let's go over the why and the how of the process!
Why Is It Easier to Generate Your Taxes on CoinStats? 
Here are a few reasons why you should consider doing your taxes on CoinStats via CoinLedger:
🕒 You will save time on crypto tax reports
Wanna finish your crypto taxes before you finish your coffee? That's what we thought. Since most CoinStats users have already connected their portfolios to CoinStats, they won't have to connect APIs anew to generate their tax reports.  And the fastest way to handle your crypto taxes is the best one for sure!
🔒 You do your crypto taxes securely via the best 3rd party provider
We thought that CoinLedger is the perfect partner if we wanna bring you secure & easy tax report generation: Trusted by over 300,000 crypto enthusiasts all around the world, CoinLedger prioritizes simplicity and user-friendliness every step of the way. Plus, both CoinStats and CoinLedger get only read-only access to selected portfolio items, so your transaction data will never be compromised.
🏷️ You'll get 10% OFF
As a CoinStats user, you get 10% OFF crypto tax report creation. This one's a bit self-explanatory: We like you so much we have also thrown in a discount 🧡
💰 You can save money on crypto and NFT tax loss harvesting
Have you lost some money on crypto or NFTs this year? Who hasn't. Although it is quite unpleasant, capital losses come with tax benefits. You can take full advantage of this loophole when you do your crypto taxes with us. 
How to Generate Your Crypto Tax Report With CoinStats?
Follow these steps if you want to generate your tax report on desktop 💻

Open your portfolio on coinstats.app and click the Report Taxes button in the lower left corner. Note that if you don't have connected portfolios yet, you will need to connect them first.
In the pop-up window, you need to select the portfolio items you want to include in your crypto tax report. For example, you might only select MetaMask and Kraken.
Add a checkmark in the box below to authorize giving CoinLedger read-only access to the selected items and then click Go to CoinLedger. 
Then finish generating your tax report at 10% OFF on CoinLedger.
And here are the instructions if you want to do your crypto taxes on mobile 📱
Note: Make sure you have updated your CoinStats app, otherwise it might not have this new feature.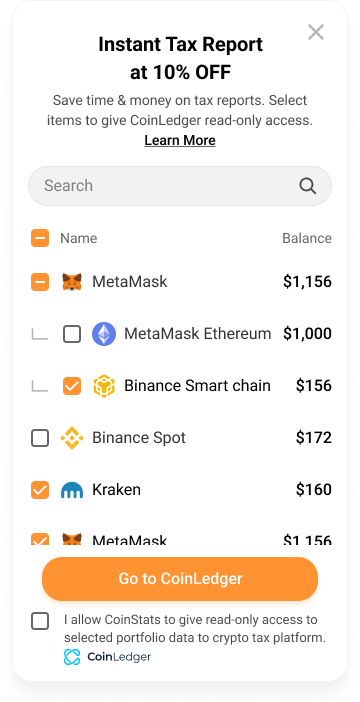 Open the CoinStats app, tap on More in the right corner below, and then tap on Report Taxes.
Tap on the items in your portfolio that you want to include in your crypto tax report and check the box below to allow CoinLedger read-only access to the selected data.
Tap on Go to CoinLedger to finish generating your crypto tax report there with a 10% discount.
Closing Remarks
As crypto gains wider adoption, more and more countries around the world introduce legislation requiring crypto taxes where cryptocurrency is treated like any other digital asset, such as stocks or bonds. Soon enough crypto taxes – or even NFT taxes – will inevitably become the norm. 
Foreseeing this development, we have partnered with #1 crypto tax tool on the market CoinLedger to facilitate tax reporting for all CoinStats users. Stay tuned for more updates because at CoinStats crypto expansion never stops!