Per a survey published by Bitstamp, the crypto space is on track to become a mainstream industry. The platform conducted a survey with over 28,000 participants, 5,400 senior institutional decision-makers, and 23 retail investors, across 23 global markets to try and take a pulse on the sector.
Related Reading | Dogecoin (DOGE) Jumps 30% After Elon Musk Buys Twitter
Since its inception, digital assets have grown into a $2 trillion industry at its all-time high. Once an interesting way for tech-savvy individuals to send money across the world, the participants of Bitstamp's survey claim that they used crypto to buy groceries, donate, shop online, and other day-to-day items.
A majority of retail responders believe the industry is in its early stages. Therefore, they expect the next 5 years to be crucial for this industry's growth. 75% think digital assets will reach mainstream adoption within 10 years.
As an additional sign of its potential to increase its adoption levels, institutional participants have been recommending it to its clients, the survey claims. As seen below, 68% of the institutional responders have been "actively recommending crypto" to their clients, with a 6% minority taking the opposite stand.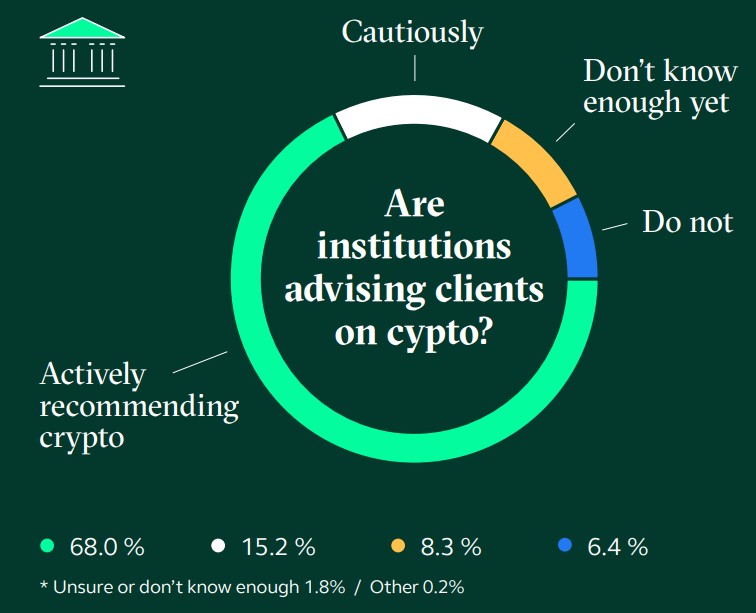 Similar to retail responders, 82% of institutions believe crypto will be mainstream in the coming decade. These investors class, the survey discovered, are very active in the space with 62% trading digital assets over 2 times per week and 54% claiming to have over 30% of their portfolio in cryptocurrencies. CEO at Bitstamp, Julian Sawyer said:
The adoption of crypto and other digital assets is advancing at an unprecedented rate. In the last few years, cryptocurrencies have moved from the outskirts of the financial ecosystem to find themselves front and center of mainstream investing, with many of the largest trading venues in the world now catering to both retail and institutional crypto needs (…).
The Countries That Could Adopt Crypto Faster
Over the next years, as digital assets gain popularity, emerging economies could be critical in boosting their expansion. At the moment, the emerging world leads in terms of trust with institutions in Nigeria, Brazil, Colombia, Argentina, South Africa, and others surpassing first-world countries.
Retail investors in the developing world are keener to trust digital assets. As seen below, these countries record over 75% in trust in contrast to the 50% or 60% in first world countries, such as the U.S., Spain, and the United Kingdom.
Regulations continue to be a key subject for both retail and institutional investors. 47% of retail and 55% of institutions believe the industry lacks a regulatory framework. Thus, the industry's future adoption seems highly tied to investors pressing their governments to provide more clarity on this item.
Related Reading | Bitcoin 401k? Fidelity Investments Says Yes 
In short timeframes, the crypto markets stand at critical support levels as Bitcoin and larger cryptocurrencies trend to the downside. At the time of writing, BTC's price trades at $38,500 with a 3% loss in the last 24 hours. The bulls need to display strength to prevent further losses.